Why is Easter skiing one of the best times to go?
With the daylight lengthening, bluebird days more frequent and cheaper prices compare to February Half-Term prices, it can be a great time for all the family to enjoy a dose of snow – Latest Ski Deals 
The one thing I would say is to stay high! There is always a chance of powder dumps to happen during March and April time.
In the Alps, you will want to be skiing way above 2,000m for snow sure pistes, anything lower will tend to get a little… slushy. Get up early, enjoy the morning skiing and then enjoy the apres ski!
Anyway, here are my top 5 Easter Ski Resorts in the Alps. In order of the highest altitude:
Being Europes highest ski resort, this is one of the best places to come for snow sure, ski-in-ski-out residences and plenty of non-ski activities.
The ski area is ideal for all abilities, especially beginners. Having a glacier means it guarantees snow cover all season.
Here are our favourite pistes in Val Thorens:
Green- The Rond Point des Pistes in Val Thorens has some gentle slopes which are ideal for complete beginners to get used to sliding a few metres.
Blue-  Blanchot & Tetras, something to delight fans of long Blue runs, and enormous fun thanks to the combination of the Blanchot and Tetras runs.
Red- Christine This long, wide run over rolling terrain is made all the better by its changes in pace.
Black-  Combe de Caron –  The steep first section takes you to a narrow pass leading to some large valleys, requiring endurance and technical mastery.
Looking for activities-off the piste?
Try some of our top 3 recommend non-ski activities:
Ice driving
Love driving, love ice skating…..why not combine them and try out Val Thorens Drivers' School Discover the highest ice-racing track in Europe for a guaranteed adrenaline rush.
You will experience steering, countersteering and braking amongst numerous techniques, all under the watchful eye of a trained professional, so you are sure to be in safe hands.
Track spec: altitude 2200m, length 760m width 10 – 12m, circuit officially recognised to welcome the 'Trophee Andros' races.
Paragliding
Tired of having your feet firmly on the ground and want to try something new on your ski holiday?
Why not discover Val Thorens from a height, soaring above the ski runs and snow-capped mountains and experiencing nothing but silence and the freedom of flying.
If you have ever thought about paragliding but never had the chance, now is the time – the views over the beautiful Vallée des Belleville are worth every penny!
All instructors are state-certified
Snowshoeing
Val Thorens isn't all about the skiing and extreme activities; there is also an abundance of breathtaking nature walks.
Snowshoeing is the perfect way to get out and enjoy the mountain scenery and fresh air, as well as build up a healthy appetite for some hearty Savoyard cuisine!
Snowshoes or 'raquettes' are available to hire from most ski shops and the ESF also runs guided tours to several local places of interest.
Top Two Tips 
The Orelle ski area has cruisey top-to-bottom runs, challenging blacks and breathtaking views.
Head up the Funitel Peclet for winding reds that are a playground for practising technique.
Tignes (2,100m – 3650)
For adrenalin junkies, party goers and family's who want an all-round active resort, Tignes is the one to visit!
You can read more about Tignes on my previous blog – Keen For Tignes
With the Grande Motte Glacier, not only do you great steep and wide pistes but you can ski on it up until July!
The resort is set in a wide, U-shaped bowl which runs from south to north, and offers slopes which face almost every point of the compass.
What does this mean? Well, you can start your morning on the east facing, just as the sun hits the slopes and begins to softens. Then you can chase the sun all day and
Then you can chase the sun all day and not worry about too many icy parts or be getting cold.
Ski Area
In all, the Tignes – Val d'Isère ski area offers you 153 runs stretched over 300 Kilometres.
The Tignes Val d'Isère ski area is an incredible winter sport recreation playground where skiers and boarders love to leave their tracks.
The ski area includes 300 Kilometres of ski runs located at altitudes ranging between 1,550 metres and 3,450 metres, at varying levels of difficulty.
Here are our favourite pistes in Tignes:
Green- Digues or Lavachet – right in the town so perfect for the new to snow skiers and boarders.
Blue- Corniches- a fantastic blue run on the L'Aiguille Percee side of Tignes. This area has lots of rolling blue runs.
Red- Cirse – get on this first thing as its super-smooth carving terrain will warm you up for the day. Get the Les Lanches lift up to the top and hit the accelerator.
Black- Campanules or Epaule De Charvet – some of the toughest blacks you will find anywhere, with two runs been used for the men's Olympic downhill in 1992.
Looking for activities-off the piste?
Try some of our top 3 recommend non-ski activities:
Ice diving
Whether a beginner or advanced ice diver plunge straight into the icy waters of the frozen lake and take advantage of professional advice and equipment to try ice diving in a safe and secure environment.
A daytime session starts from €95 and night time sessions start from €130.
Snow Mobiling
This is one of the most popular activities for thrill-seekers who are keen to try something other than skiing.
The bikes can take 1 or 2 people at a time and there is also the option of swapping over halfway through the session.
Day time sessions as a driver cost from €59 for 30 minutes. Or you can go snowmobiling and then have dinner in a yurt with prices starting at €84.
Ice Climbing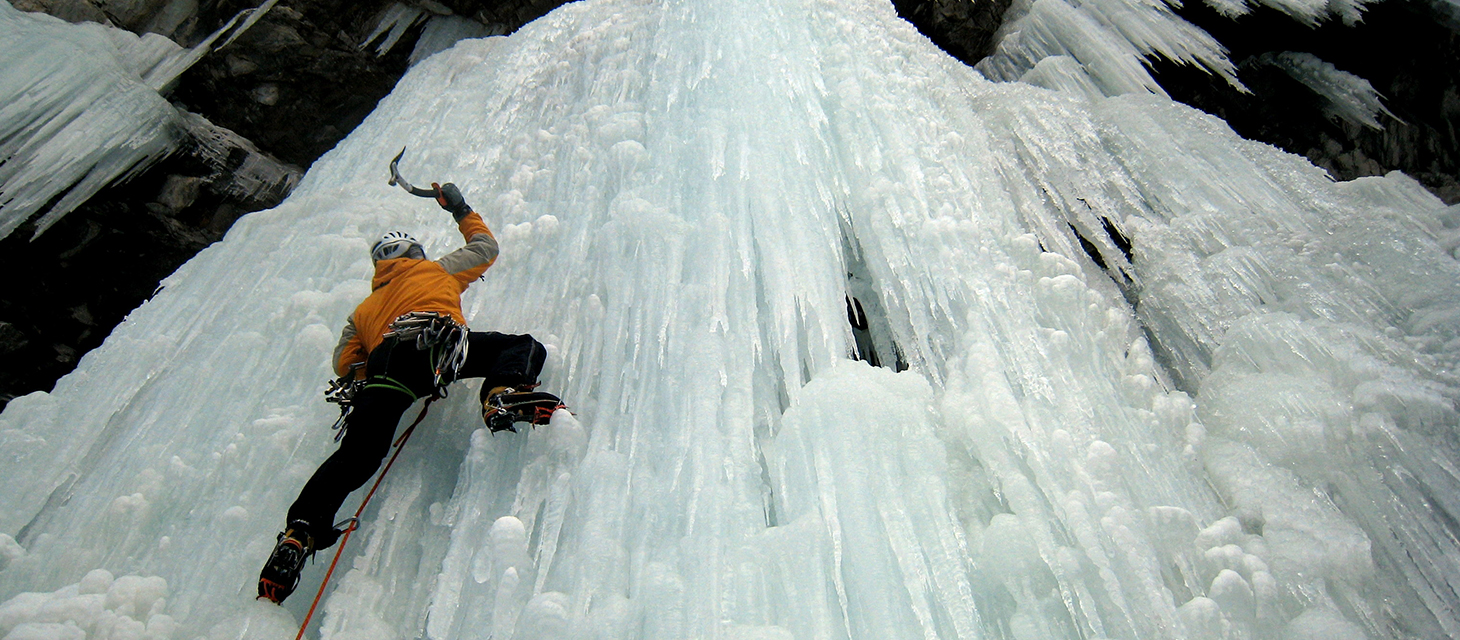 Climbing up a wall of ice, you are sure to enjoy the thrill of this unique frozen waterfall experience.
Wearing a helmet, harness and crampons with an ice axe in hand, you will be all set to conquer the icefall.
Located in Tignes Les Brévières. Group sessions start from €89 per person.
Top Two Tips 
Head on down to the Le Rosset food marketing on Sunday and Thursday down in Le Lac.
The runs at the top of the Aiguille Percée offer perfect skiing on sunny slopes.
Zermatt (1,620 – 3,899m)
Zermatt is one of the great ski and climbing centres of the world with the icon backdrop of the Matterhorn.
This beautiful resort is a snowsure due to its altitude offers skiing from late November to the end of April.
Zermatt is a car-free resort with its cobbled streets and horse-drawn sleighs is an incredibly special place – a welcoming alpine village that will make you feel you have taken a step back in time.
Ski Area
Linked with the resorts of Cervinia and Valtournenche in Italy, Zermatt provides access to some 350km of pistes.
Along with spectacular mountain restaurants and ample alpine activities for non-skiers, this is the perfect playground for thrill seekers and advanced abilities.
Here are our favourite pistes in Zermatt:
Green- Trokenersteg and Sunnegga- the perfect place for beginners to get their ski legs back.
Blue- Gornergrat area – this is ideal cruising territory, good for a blast on rolling, well-groomed and often deserted terrain.
Red- Rothorn sector – this area is pack full of wonderful long reds back down to the village.
Black- The famous Triftji  – regarded as one of the world's toughest and longest runs. Can you handle it?
Looking for activities-off the piste?
Try some of our top 3 recommend non-ski activities:
Dog Sledding
Husky sleigh rides in front of the Matterhorn. Learn to be a "musher" driving a pack of husky dogs or just go along as a passenger on a sled driven by a trained musher.
Husky Zermatt gives you a chance to meet the dogs, get to know them and then learn how to be a musher or simply get taken for a ride on their 2km private trail under the Matterhorn. There's even a snow bar for hot and cold drinks.
It costs 240CHF per person which is roughly £195 for an hour and a half experience with a maximum group size of 4.
Skydiving 
Just once to fly like a bird through the sky – this is what almost everyone wants to do.
And this is now possible in Zermatt – with a jump out of the helicopter with a free fall past the Matterhorn.
For safety sake, this is not done alone but rather in tandem with the state-certified skydiver, Marc Heise.
Zermatt Unplugged Music Event
Zermatt has good reason to visit the resort in the late season – Zermatt Unplugged.
In recent years, it's grown into the best music festival in the Alps: and acoustic-only shindig, that is drawing in some very big names.
The festival has seen the likes of Boy George & Culture Club, Passenger, James Bay, Emeli Sandé, The Kooks, Kodaline, James Blunt, Jamie Cullum, Jess Glynne and Paulo Nutini. For 2020 the line up includes Dido, James Morrison, Jack Savoretti and the Kaiser Chiefs.
Top Two Tips 
Try and avoid red 44 towards the end of the day as it gets very busy! Hang back at the top of the Hohtail cable car and decide then.
The best ski run to see the Matterhorn is red 69, this will take you right below the peak of it.
Accommodation
We have a great range of hotels in Zermatt and often exclusive availability compared to other holiday operators due to our strong and trusted relationship.
Enquire today and we will do all the research for you, click below to easily find out more information.
Val d'Isere has one of the best snow records around, making it a safe bet through March and April.
It's one of the most likely resorts to get Easter powder dumps as it is located at the intersection between two weather systems. and
It usually benefits from storms coming in from either the Atlantic and the Gulf of Genoa in the Med.
The village itself has much to offer too, whether it's relaxing in the resort's indoor pool and wellness facility or testing your skills on the Audi Ice Driving Circuit there is plenty going on to keep everyone entertained.
Ski Area
The ski area is vast as it connects to Tignes with easy access and suitable for all level of ability.
Along with spectacular mountain restaurants and ample alpine activities for non-skiers, this is the perfect playground for families and all abilities.
Here are our favourite pistes in Val d'Isere:
Green- Rocher De Bellevarde area- Take the Olympique cable car to Rocher De Bellevarde to access six smooth green runs.
Blue- Glacier. Wide cruisey blue run with big rollers that you can go massive off if you want to.
Red- Moraine. It's high up on the glacier so it's always quiet and has good snow. It also has some very easy off piste alongside so you can dip on and off piste depending on how you feel.
Black- The Face. Men's downhill course with plenty of chances to scare yourself. The fun top section is in a gully that almost tells you where to make your turns.
Looking for activities-off the piste?
Try some of our top 3 recommend non-ski activities:
Spas and Massage Treatments
Whether you've had a hard days skiing or you simply want to spoil yourself, why not treat yourself to a relaxing massage.
Most of the hotels in Val d'Isere open their spa facilities to members of the public, so why not pop in and make an appointment, or contact our office directly for assistance.
Husky-Sleigh Rides
Navigate through the Valley of the Manchet with your team of huskies in the breathtaking scenery.
Evolution 2 gives you the opportunity to ride as a passenger in the sled wrapped up warm from the arctic conditions or you can also learn to drive the sleds and try your hand at 'mushing' (you must be over 12 years old).
You can't prebook the husky sledding due to variable conditions, so you simply have to give them a ring when you arrive in resort and they'll let you know the availability and when the sleds are running that week.
Prices start from 110€ for 2 people or to drive your own sled is 85€ per person.
Patisserie Classes
Patrick Chevallot, the patissier of Val d'Isere gives inspiring lessons in patisserie, if you are looking to try your hand at something new.
Top Two Tips 
For beginners, ski down to La Daille and hop on the local ski bus to avoid the tricky and slushy home runs.
Le Fornet on the glacier has stunning scenery and some excellent, long and wide blue and red runs.
Accommodation
We have a great range of Catered and self-catered chalets in Val d'isere.
Click below and see how much you can save this Easter with our Spring Ski Savings.
St Anton is one of the top resorts in Europe, combining some of the best on and off piste skiing in the northern Alps. Click here to see more reasons to visit St Anton. 
As Austria's leading ski resort, St Anton has earned itself a well-deserved spot in the world's top 5 ski resorts and the Austrian après ski is nothing short of legendary.
It offers skiing from late November right through to early May.
With many north-facing slopes, the resort manages to hold the snow well despite the strong spring sunshine.
Ski Area
The large Arlberg ski area plays host to over 97 lifts, allowing you to ski not only in St Anton & Lech but to also Zurs, Stuben, St Christoph, Zug and Warth, meaning you're not going to be short of places to explore on a week's holiday.
Here are our favourite pistes in St Anton:
Green- Blue 5 & 6 –  good blue for beginners is the top of the Galzig with some wide and flat blues. Blue 5 & 6
Blue-  17- Long, wide and one hell of a ride! This is one of the best run in the Alps. Get on it early as is get chopping towards the end of the day.
Red- 14- connect to blue 17 makes it the best run in St Anton. The longest run in St Anton and perfect with fresh on the piste.
Black- 35- at the top of Kapall all the way down to black 25, leading to the bottom of the Fang chair lift. Get here early though as it does get very busy later on.
Looking for activities-off the piste?
Try some of our top 3 recommend non-ski activities:
Tobogganing
Tobogganing is a popular activity in St Anton.
With a 4 km lit sled run from Gampen past the Rodelhutte down to Nasserein and the Rodelstall.
The 2.5 mile run begins on the Gampen and goes right down to the valley. The course takes about 15 minutes to complete and has a vertical elevation of 1,670 feet (500 metres).
It's free to go on the toboggan run, and toboggans can be hired from many of the ski hire shops in town.
Ice skating
In front of the Arlberg-well Centre there's an ice skating rink. Here you can choose from skating or curling during the winter season.
Skating is available daily from 1pm-5.30pm and on Sunday, Monday, Wednesday and Friday until 8pm.
Curling is open on Tuesday, Thursday and Saturdays from 18:30-21:30 (make a reservation in advance by calling 0043 5446 4001).
To skate it's €4 per adult, €3 per child, skates are €4 per adult, €3 per child. For curling, it costs 33€ for a party of four with each additional person costing 4.5€ pp and you get 90 minutes on the ice.
Paragliding
Float over St Anton getting a real bird's eye view of the Arlberg area.
Flight Connection and Parapowder offer paragliding solo and tandem flights and giving you the chance to see parts of the mountain that are completely untouched and remote.
Top Two Tips 
Blue one can get very chopping towards the end of the day at it is the main route home and to the famous Mooserwirt apres bar!
Head to Sonnenkopf for a day and you will discover beautiful backcountry powder and a true Austrian ski vibe.
If you would like more assistance or accommodation advice, please don't hesitate to get in touch with one of our holiday experts or simply search our website below!